INFO
Flowering season
There probably isnít any other group of perennials that can ad such diverse rich colours to the garden from December to April.


Hardy
Although the flowers sometimes are damaged by very extreme cold temperatures in wintertime we have had over twenty problem free hellebore seasons in the past.


Patience
Young plants need a few years to grow big With a litle bit of patience and a right treatment they will reward you each year with more flowers.


Separation
Regarding only the gardeners viewpoint we can separate the garden hellebores in three rough groups

The orientalis hybrids, our speciality very garden worthy plants, in many different colours.
The H. niger, The lentenrose, beautiful plants a bit miffy in drier conditions.
The less known wild species , known by only a few in horticultural use, deserve more interest..
Orientalis hybrids
Colordiversity
They come in many forms and colours going from pure white to yellow, apricot, salmon, pink, red to dark purple and greyish blue.
Hybridising programs and strict selecting has given amazing results.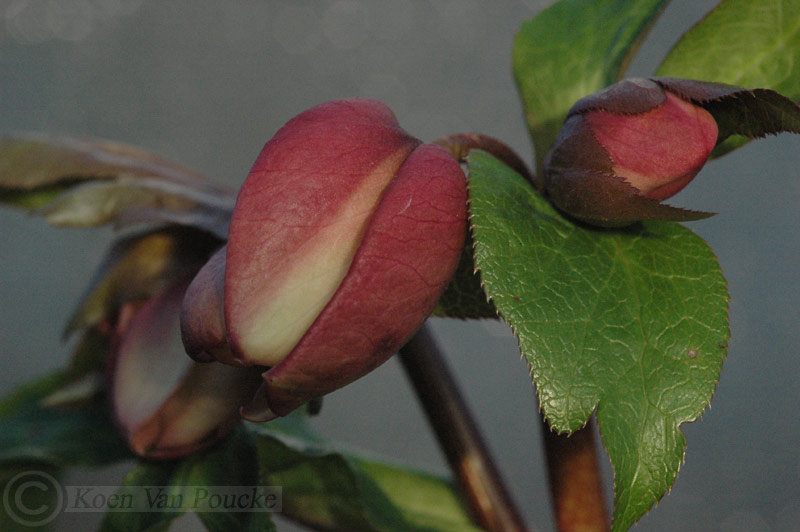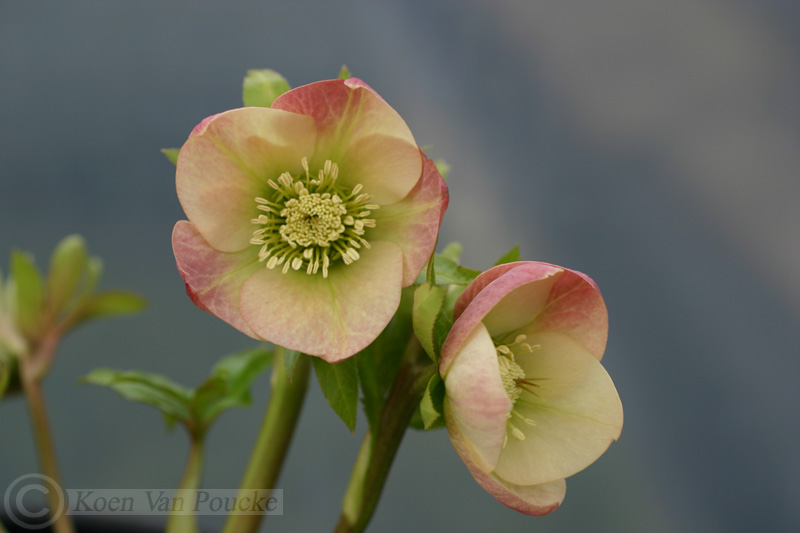 Combining winter bloom
Hellebores are easy to combine with snowdrops and other early flowering plants and shrubs such as Hammamelis ,Sarcococca, Eranthis, Pushkinia, Galanthus.


The right spot
Orientalis hybrids develop into massive clumps and thrive best in a welldrained loamy soil but they arenít to picky about most soil compositions. The evergreen foliage is kept nice when planted in shady spots, though in the winter the flowers develop better when they are able to receive some sunlight. Planting them in the neighbourhood of deciduous shrubs such as Hazels is ideal, because they offer shade in summer and allow sunlight to pas trough in winter.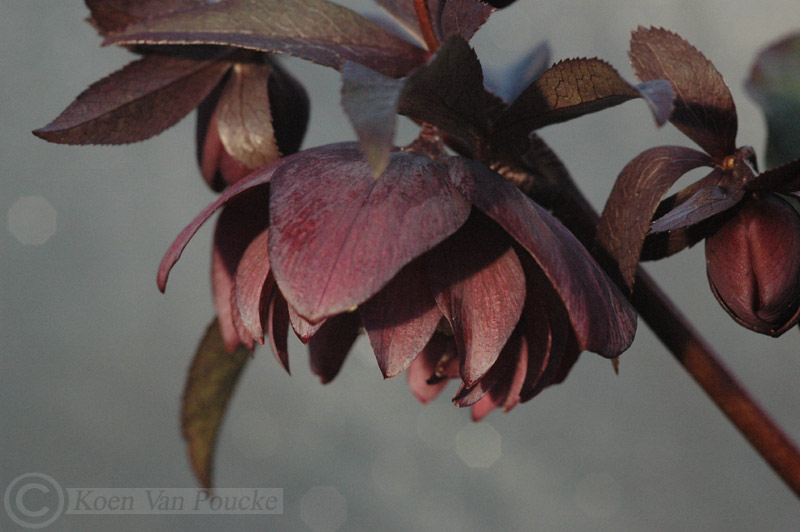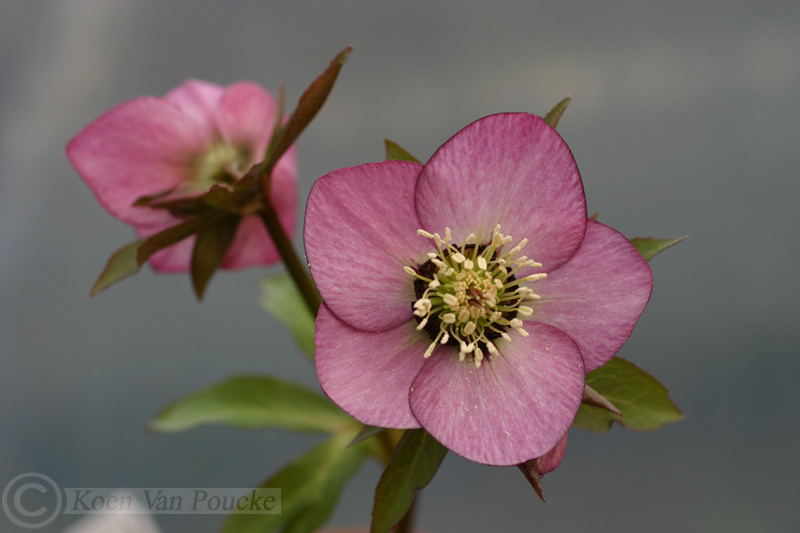 Care
Hellebores enjoy rich soil, a little dose of fertiliser from time to time wil ad to the flowerabbundance and growth. Do not plant them on very dry and poor places on the other hand they also dislike wet, undrained and boggy places.
Hellebores absolutely dislike replanting and in most cases need several years to recover from it , however if it anyway needs to happen it is best to replant them during the cold period lets say between December and march depending the weather of course. Replanted hellebores need extra care the first year. In dry periods some water will be a very welcome treat .

Remove all leaves in December, this will ad to the elegance of the flower stems on their own, being more in proportion regarding the large leaves.
After the main flowering season new leaves will pop up as if nothing happened.


Problems
Natural seedlings can be very charming but it is advisable to remove/replant them in time, the reason is that they often have cross-pollinated which may result in different and les vivid colours or weaker flower performance, they also form a threat for the mother plant using up the nutricions and water from the soil around.
Black spot the name explains how it looks is sadly enough a common pest, once a plant has these symptoms we advise to remove the plant completely and treat the other hellebores with a fungicide.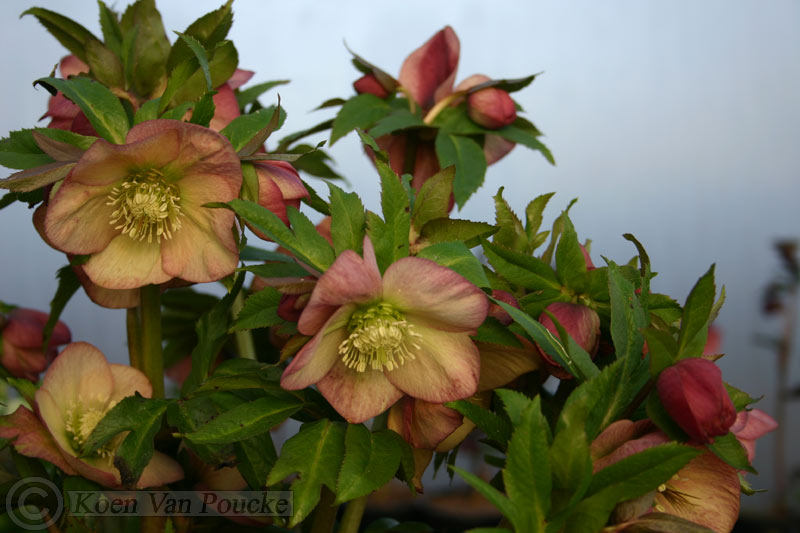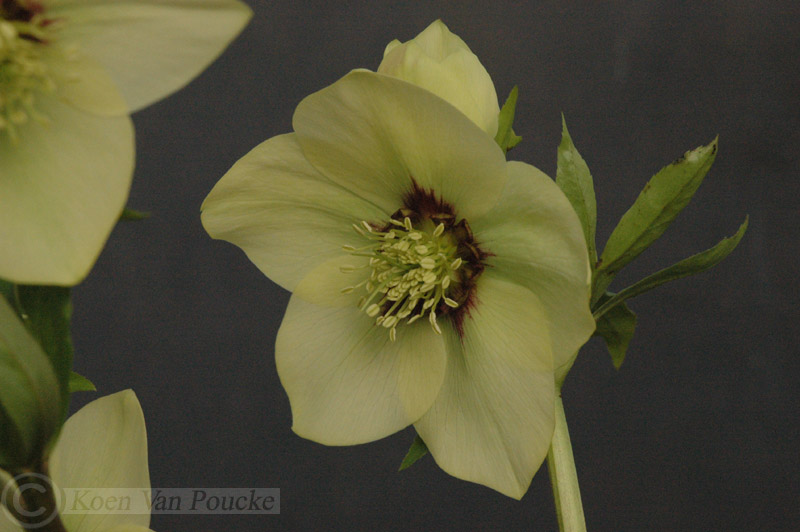 Sale
Offer
Hellebores are sold during their flowering season.
End December we often have early white flowered orientalis selections blooming, however our largest choice is available from the end of January to the end of February, hellebores can be bought until mid April.


Greenhouse
Our plants are sold in large pots in a airy greenhouses so that you arenít bothered while making your choice by the eventual change of weather. In this Greenhouse we yearly arrange a small exposition of our most successful hybrids for that year it will be viewable from February to march.


Garden
Our private collection is planted together with other early flowering woodland plants beneath old hazels and between high evergreen hedges, itís worthwhile visiting during the frost-free periods. We think it gives a nice overview of the possibilities concerning the use of Hellebores in the winter garden.


Availability
The breeding of beautiful varieties of hellebores is a slow and patience requiring job. It happens that we are short on some types but they mostly re appear after one or two years. Due to the great diversity within colour groups it is advisable to select your plants for yourself, unfortunately we do not practice post order.


Open Days
We organise our open days at the Nursery with Hellebores as our main theme between mid of January and mid of March. the Nursery will be open from 9 am to 6 pm . Groups are welcome after appointment.


Nursery and flower shop
Besides Hellebores we have a Nursery listing many fine perennials such as many rare collections of woodland plants, at the other hand we also run a flower shop. More information you will find elsewhere on this website.




OPEN HOUSE
Snowdrops
Special offer of Snowdrops, Adonis, Cyclames, Helleborus and other winter plants as from mid of January. Possibility to visit the collection garden if it's not freezing.

Helleborus
Great offer of different Helleborus hybrids and other wild species.
As from mid January till mid April.
Possibility to visit the collection garden if it's not freezing.


Epimedium and other woodland plants
Unique collection of Epimedium and woodland plants.
Possibility to visit the collection garden in spring.


Dahlia garden
Fashionable and botanical Dahlias.
As from mid August augustus till end October.